Optical Character Recognition is a feature that allows you to scan documents based on images and make them editable. In this article, we'll look at the best free online tools to help you perform OCR on your images.
Online OCR is a website offering a free OCR recognition service. This site allows you to convert image/PDF to editable formats such as Word, Excel and text formats. This site allows you to extract text from images or PDFs. The service supports up to 46 languages, including English, Danish, Chinese, Korean, Estonian, Finnish, and more. All you have to do is register to take advantage of all its features.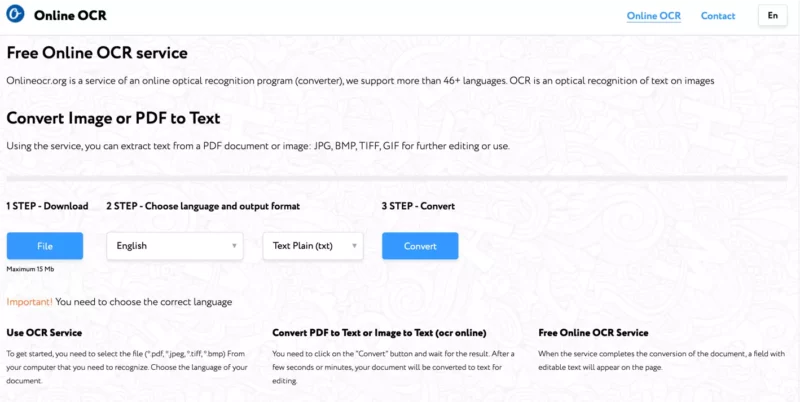 #2 Hipdf – hipdf.com
It is important to note that HiPDF offers OCR features that allow you to convert scanned PDF files into a searchable, selectable, and editable document. It is easy to use with a friendly user interface and allows you to perform other operations such as converting PDF to Word, Excel, Image, PPT and vice versa. Its platform is secure as it uses high-end SSL encryption, which means your documents are secure on the platform. HiPDF is one of the best in its category.
#3 Free Online OCR – free-online-ocr.com
Free Online OCR is another free website equipped with PDF recognition technology. This technology allows you to convert scanned PDFs, screenshots, and images into formats such as Word, Excel, and text formats. Its user interface is user-friendly and allows you to upload a file and select its output format and then convert it.
#4 Free OCR – free-ocr.com
Free OCR is also another popular website that allows you to convert scanned files and photos into documents. The beauty of this site is that it does not require any registration. Once you are on the site, all you have to do is upload the scanned file and select the OCR language and then convert it. It supports up to 29 OCR languages such as English, French, Slovak, Ukrainian, Polish and many more.
#5 i2OCR – i2ocr.com
i2OCR is another free online tool that allows you to perform OCR recognition on your scanned files. Its OCR supports over 70 languages used all over the world. It also supports major image formats such as PNG, JPEG, BMP and many more. Thanks to this website, you can perform OCR on scanned files and images with just a few clicks. Moreover, it allows you to convert these files to Word, Text and Adobe PDF compatible formats.
#6 NewOCR – newocr.com
The NewOCR site is also a free online OCR that could not not be included in our ranking. This tool has the ability to digitize your scanned images and documents as well as convert them into plain text, Word and Adobe Acrobat documents. It allows uploading multiple image files to the website and supports more than 106 languages with OCR. Moreover, NewOCR is one of the few websites that recognizes mathematical equations.
Limitations of online OCR tools
Free online tools are very convenient for performing OCR recognition on your small documents or images. Most of them are advantageous and accessible, however, these sites have limitations which are highlighted below.
They support limited output formats compared to software.
The size of the files to be scanned is limited depending on the website, generally 100 MB.
Online OCR tools often only support English.
Some require registration to use certain features.